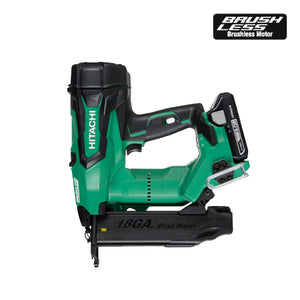 HITACHI Power Tools is now Metabo HPT; same tools, new name! Labels may vary.
Brushless motor for longer run time, less maintenance and increased durability
Powered by a Compact 3.0Ah Lithium Ion battery that is 3/4" shorter and .6 lbs lighter than a conventional 3.0Ah battery for complete portability
Freedom from cumbersome air hose and compressor saves time in setup, during applications and in jobsite clean up        
Unique air spring drive system (similar to Hitachi's pneumatic line) that uses compressed air to drive each nail resulting in zero ramp up time, increased shooting speed, recoil that feels like a pneumatic nailer, quicker response time between drives, better flush driving- even at an angle and easy maintenance due to fewer parts to manage
Selective actuation switch transitions between sequential mode and bump fire mode, when rapid nailing is preferred
Tool-less depth of drive adjustment for flush drives into various materials
Refurbished, scratch and dent units. Condition of the tool may vary.
Fastener Type: 18ga, Straight Brad Nails
Fastener Length Capacity: 5/8" - 2"
Magazine Capacity: 100
Battery Type: 18V Lithium Ion
Kit Includes: Tool, Bag, Charger, 3.0Ah Battery, Safety Glasses
(Source)