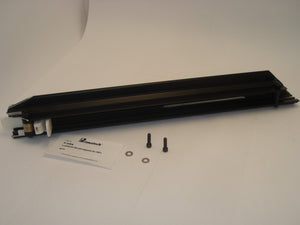 Gym edition LoadXtend magazine with a 300 nail capacity.
The LoadXtend magazine holds more fasteners in the same channel length than any other tool, to let you load when you want, as needed. The Stapler Elbow magazine can hold up to 6 sleeves of staples (276) and makes for longer run without the need to stop.
You can now reload before your magazine is empty and keep your installation pace. The LoadXtend allows for reloading extra clips on the fly, therefore saving time and avoiding unwanted interruptions.
Its exclusive pusher will remain locked into a pre-armed position allowing the tool to be fed by gravity. With less than one strip to go the LoadXtend mechanism engages automatically and operates in a conventional way by simply applying pressure on the the fasteners.
P-249A - 300 nails / 3 strip  capacity
(source Primatech)