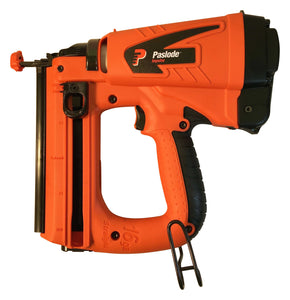 Drives 50% more nails per charge (up to 6, 000 nails)
Paslode 16 Gauge Finish Nails (1-1/4" - 2-1/2")
1 hour charge time
Improved weight and well balanced - maneuver into tight spaces
Battery and charger compatible with Paslode Li-Ion Cordless Framing Nailer
No hoses, no compressors to set up or tear down

Applications:
Door and window trim
Casings
Crown and baseboard moulding
Chair rails
Peneling
Cabinetry
Refurbished, scratch and dent units. Condition of the tool may vary.
 Fastener Type: 16ga Brad / Finish Nail

 Fastener Range: 3/4" - 2-1/2"

 Fuel Type: Short Yellow Fuel
 Kit Includes: Tool, Case, x1 Battery, x1 Charger